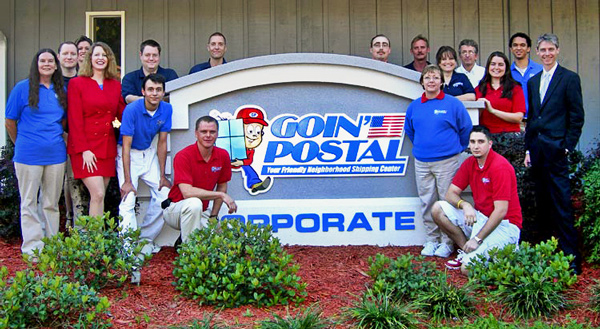 Post Office in West Monroe, LA
Goin' Postal is your preferred post office alternative in West Monroe, LA. We offer a full range of mail products and services including shipping, receiving, private mailbox rental, printing, faxing and much more. We make it easy for you to get in, get everything done and get on with your life—without wasting time waiting in line. From individuals to small business owners, we keep you organized and efficient, no matter your needs.
Shipping, Receiving, and Post Office Boxes
Sick of waiting in long lines at the Post Office or big-box shipping companies? Save yourself the time and hassle by making Goin' Postal your go-to mailing, shipping and printing service. Get all the products and services you need in a single, speedy visit—always at the right price.
We're affiliated with USPS, FedEx and DHL, handling your shipments with the utmost care. We can do everything our competitors do, helping you send and receive mail, packages and more—we can pack and ship nearly anything and send it nearly anywhere in the world. Enjoy the convenience of an all-in-one post and package solution, priced to fit your unique needs.
We have hundreds of convenient locations country-wide to serve you.
We pride ourselves on providing consistently-top-notch service.
We're affiliated with all primary carriers including FedEx, DHL and USPS.
We're joining USPS' new Approved Shipper Program, to better serve the public.
Check out our stock of novelties including candles, soaps and other unique gifts!
Looking for an alternative to the traditional post office box?
We have private mailboxes available for rent at incredible prices. Not only can you receive deliveries of any size, from any shipping service, you get it all at no additional cost! Whether you need a safe place to receive packages or a business mailbox to keep your entrepreneurial pursuits organized, we give it to you.
We're also a fully equipped printing, copying and fax center, providing both self-service and full-service options for your convenience. Whether you're making a single copy or need to print a full run of professionally finished, full-color documents, we help you get the job done efficiently and affordably. Make us your business services provider—we promise you'll be delighted with the results.
Convenient Postal Services & Post Office Box Prices
Goin' Postal is your one-stop-shop for all mailing, shipping, printing and faxing needs. We provide convenience and superior customer service every time you visit. Stop by or contact us to learn more about what we can do for you!