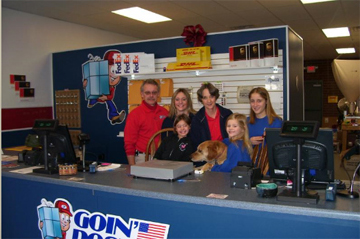 Shipping Services & Mailbox Rentals in West Monroe, LA
In addition to printing and faxing services, Goin' Postal provides a range of shipping and mailing services that help make your life easier. Whether you need a private mailbox to receive mail or you're shipping a package—no matter the size—stop waiting in line and get it all done in one convenient location. We're here to serve you!
Shipping and Receiving
As an authorized shipping center for FedEx and DHL, and a licensed USPS affiliate, we're your one-stop shipping and receiving center. You'll always have confidence that your item is in good hands. Clients benefit in a variety of ways from our shipping and receiving service in West Monroe, LA:
We offer all the services available at the Post Office without the wait.
Retrieve your mail, shipp a package overseas or get a valuable item packaged.
We're a one-stop-shop that saves you time, money and energy.
Private Mailbox Rentals
We make private mailbox rental in West Monroe, LA much more convenient and valuable. Our service differs greatly from the majority of competitors, providing a personal touch that makes your life easier. Why are our private mailboxes better than the average P.O. box? You can receive any sized package from any shipping service, and we provide additional services at no extra charge.
Mail Forwarding
We know that some customers are seasonal, which is why we forward their mail to them wherever they go. Let our friendly staff know you're leaving, and we'll get you your mail no matter where you are. All you'll pay is postage! This is also a great service for our business customers, who want to keep their mail separate and organized.
Shipping Services and Mailing Made Easy
Goin' Postal makes your life easier by helping you mail, ship and receive deliveries in one convenient location, at a great price. We want to be your go-to shipping and mailing resource, offering exceptional service for every customer, every time. Learn more about our shipping and mailing options, or get your mail forwarded to your current location by giving us a call at 318-654-7381. Contact us now!